In 1996, Bernie Friel founded the earliest form of Genesis AEC in the basement of his home. The following year he expanded the mechanical engineering and design company to include electrical and plumbing services by merging with another firm. This early move set the tone for the following twenty years of business, during which it grew to encompass a multitude of different skills and departments. Today, the company employs a team of more than 375 people, spanning a broad range of services, including architecture, engineering, construction management, commissioning, qualification, validation, and asset management. In speaking to Construction Today magazine, Mark Gagnon, Vice President of Construction at Genesis, expands further.
"We are a Total Project Delivery firm. We handle everything from beginning to end, from the earliest feasibility studies, programming and planning, all the way through to the finished product. It's this total vision, or should I say long-term solution, that really differentiates us from our competition. It's not just a case of one project in and one project out for us; most of our clients are repeat customers, some of whom have been with us for 20 years, across hundreds of projects in multiple locations. We wouldn't get that kind of repeat business if we weren't doing something right. People appreciate the ownership with which we manage any project that we undertake. And they appreciate our adaptability, too– everything we do is tailored to the specific and unique needs of our clients."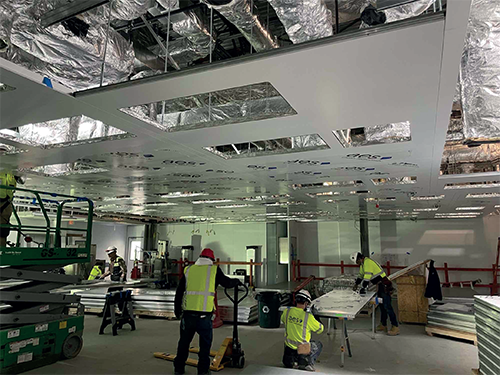 Deeper understanding
Genesis is one of the nation's leading Engineering, Procurement, and Construction Management (EPCM) firms dedicated to the life sciences industry, and has served leading innovators such as Bristol-Myers Squibb, Bayer Healthcare, Glaxosmithkline, Merck, Celgene, Novartis, Johnson and Johnson, and Pfizer, to name a few. It offers a unique one-stop design and build approach, and houses teams of award-winning professionals across a myriad of disciplines, which really sets the company apart. As Tom Hughes, Genesis' Associate Vice President of Construction, details: "Where we shine best and what we attribute to our success today, is the cross-discipline expertise we possess. The Genesis team is made up of subject matter experts in everything from process and procurement to compliance regulations, design, and engineering; all of which culminates to make us the best construction managers we can be. Through our extensive technical and scientific knowledge base, we have a deeper understanding of our clients' needs, which helps us to deliver projects from a strong quality standpoint every single time. I think that's what really sets us apart, we've got everything under one roof, and we carry that approach through with collaboration across all of our geographical locations.
Whatever it takes
"In terms of our technological means, we are always on the lookout for the next software innovation to boost our efficiencies on the management side of things," he continues. "We also use software to help with staff planning, but more excitingly, we're currently looking at a new form of 4D scheduling software. With this, we will be able to create a step-by-step, interactive timeline-model for any project, which features video game-like graphics and allows our clients to walk around the future stages of their development, at any point during the process. It also helps us in working alongside our clients' maintenance and operations teams early on as we can spot issues and figure out logistics way ahead of time. We already implement 3D scanning technologies, when surveying existing facilities, to ensure the absolute accuracy of our surveys. We can apply this information to 3D models within virtual reality to give our clients an idea of what the finished design can look like before we've even started construction."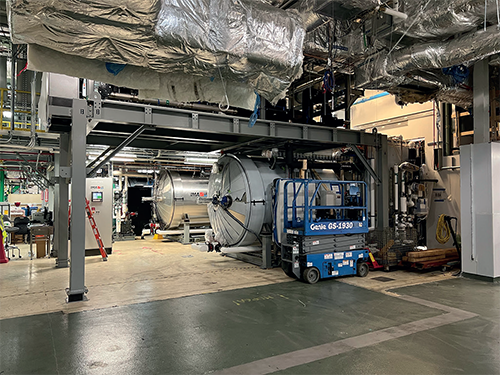 Genesis' clients' individual needs regarding their specific plants or research facilities vary, depending on the product or development they are working towards. This is what truly drives Genesis in its culture of innovation, providing the requisite custom solutions to whichever challenges develop. Given the highly regulated fields that the company serves, much of its work has to be FDA approved and EU compliant, therefore the design and construction are focused largely on shrinking the critical paths to project completion. If the paths cannot be shrunk, then Genesis will endeavor to find another route, as Tom goes on to highlight in relation to a current project.
"We're currently working on a large-scale consolidation project to update a client's aging facilities. Of the two main buildings, one is around 100,000 square feet, to which we are adding a further 40,000 square feet. Given that the ongoing work is taking place in a facility where active science and campaigns are still being practiced, we had to take huge precautions in measuring the existing structure's strength and durability for coping with the noise and vibrations that we'd be creating. We employed a 900-ton crane, which had to be built by an assist crane, to put a tower crane on the top of the building, requiring an additional assist crane. The kind of coordination this sort of effort requires, just for one portion of a project, is exactly the manner of kinship that we exhibit for our customers time and time again. There were so many safety reviews and second and third checks in place to ensure no damage or disruption came to the millions of dollars' worth of science taking place below."
As a company that doesn't self-perform any of the field work, and relies entirely on subcontractors, relationships with people, both internally and within its supply chain, are at the top of Genesis' agenda. No subcontractors are employed until they have passed its in-depth vetting process, but once on board, they are welcomed into a long-lasting relationship of fair treatment and respect. The company opts for the term 'trade partners,' as both sides of the agreement equally need one another. As Mark concludes: "Everyone is focused on life science: the extension and enhancement of human life. We have a small firm's feel and culture, despite our exponential growth over the last few years. Everyone is very approachable, and we love to work collaboratively. No matter what department, we all share the same bottom line of working towards the company's success."